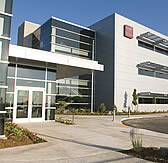 The Biomedical Informatics Research Center (BIRC) was created in 2005, grounded in Marshfield Clinic's long history of clinical excellence in the field of medical informatics.
Marshfield Clinic physicians have been routinely using computers as a part of every patient encounter for over a decade. Marshfield Clinic develops much of its own clinical software, allowing new ideas to be implemented quickly. CattailsMD, an in-house developed electronic health record (EHR) system, was the first physician practice-driven EHR accredited by CCHIT.
Scientists in the Biomedical Informatics Research Center (BIRC) conduct clinical and translational informatics research. Utilizing electronic health record data, scientists develop predictive models to identify patients at risk of an adverse event. Researchers use machine learning to characterize patients for research studies. Researchers use natural language processing and intelligent character recognition to mine data in over 88 million clinical narratives.
What is Biomedical Informatics?
Informatics is the study of how information is collected, organized, and used to solve problems.
Biomedical informatics studies the collection, organization and application of information in health care and medical research. There are different subfields within biomedical informatics. These subfields use similar techniques and tools but apply them to different problem areas.