---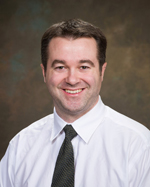 December 2017
Dr. Jeffery VanWormer, Research Scientist from Center for Clinical Epidemiology and Population Health (CCEPH) has been named Interim Center Director for Center for Oral and Systemic Health (COSH) effective 12/11/2017.
Dr. VanWormer has been a Joint Appointee Scientist with COSH (Secondary Appointment) the last three years and has lead the Dental Public Health core. He has successfully mentored several summer interns/junior scientists within COSH and worked on many dental and craniofacial research projects. He is the Principal Investigator on a recently funded, internal research grant to assess the oral health literacy among the dental patients served by our health system. He has published several manuscripts in the dental public health discipline.
We want to wish Dr. VanWormer the very best in this new role. He will continue to serve as the Research Scientist at CCEPH where his primary appointment resides.