---
July 2018
COSH and Family Health Center (FHC) of Marshfield participated in community outreach by providing free ora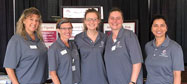 l cancer screenings to the participants at the Wisconsin Farm Technology Days (WFTD), July 10-12, 2018,
in Marshfield, WI.
The WFTD is a large farming exposition held in different counties of the state of Wisconsin each summer as a means to bring the latest agricultural-based information and technology to farmers in one place. For sixty years the WFTD has taken a Wisconsin host farm and turned the surrounding farm fields into a large town complete with roads and temporary buildings or tents. Featured events, such as field demonstrations using the latest equipment and guided tours of dairy operations, brings an average of 50,000 farmers and non-farmers to this event over a three-day period. The location of the WFTD will determine the participation of local businesses and community service events. Another important aspect of the WFTD is providing health and safety information and demonst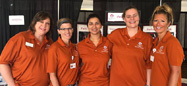 rations to farmers. At the 2018 WFTD, which was located in Wood County, Marshfield Clinic Health System (MCHS) had a large presence including sponsorship of the event and many complimentary health screenings for participants.
COSH and FHC Staff featured in photos include:
Top-middle (Day 1):
From left to right
COSH Associate Research Scientist Dr. Neel Shimpi, COSH Dental Hygienist-Research Kelly Schroeder,
FHC Dental Center Assistant Manager-Operations Crystal Brings, FHC Dental Assistant Crystal Martin,
FHC Dental Hygienist Linda Aden
Top-right (Day 2):
From left to right
FHC Dental Hygienist Stacey Bisenius, COSH Dental Hygienist-Research Kelly Schroeder, FHC Dental Hygienist Kristie Virden,
FHC Dental Assistant Crystal Martin, COSH Associate Research Scientist Dr. Neel Shimpi
Bottom-right (Day 3):
From left to right
FHC Dental Hygienist Katherine Mann, COSH Dental Hygienist-Research Kelly Schroeder, COSH Associate Research Scientist
Dr. Neel Shimpi, FHC Dental Assistant Crystal Martin, FHC Dental Center Manager Megan Hintz