---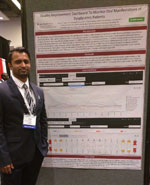 November 2017
To promote the dental quality initiative being led by COSH, Mr. Harshad Hegde, Informatics Research Architect, presented a poster entitled, "Quality Improvement Dashboard to Monitor Oral Manifestations of Dysglycemic Patients," at the American Medical Informatics Association® (AMIA) 2017 Annual Symposium in Washington, D.C., November 4 – 8, 2017. Also in attendance, representing COSH, were
Dr. Neel Shimpi, Associate Research Scientist and Mr. Alok Panny, Research Assistant.

AMIA is the professional home of leading informaticians including clinicians, scientists, researchers, educators, students, and other informatics professionals who focus on optimal utilization of data to connect people, information, and technology. The American Medical Informatics Association® is the center of action for more than 5,000 health care professionals, informatics researchers, and leaders in innovative approaches to biomedicine, health care delivery and science. AMIA's annual symposium offers an venue for the international informatics community and health care industry leaders to meet and share their latest innovations and interact with their colleagues and explore future directions. AMIA and its members contribute to advancement of healthcare transformation by promoting high quality science, education, and practice in biomedical and health informatics.