January 2017

2016 National Network for Oral Health Access (NNOHA) Conference
On November 7th, Dr. Amit Acharya, Director of IOSH, and Harshad Hegde, Informatics Research Architect, presented an oral presentation entitled, "Establishment of a Quality Improvement Culture at a Large FQHC Dental Practice in Rural Wisconsin," at the 2016 National Network for Oral Health Access (NNOHA) Annual Conference on November 7th in Denver, Colorado. The objectives their presentation included: discussing the need for a focus on quality in dentistry; discussing the opportunities involved with visualizing key dental measures and performance for improving the quality of care in dental practices; and sharing the design, development and implementation approach of a dental quality improvement dashboard that supports a large dental FQHC practice in central Wisconsin.

NNOHA was founded in 1991 by a group of Dental Directors from Federally Qualified Community Health Centers who identified a need for peer-to-peer networking, collaboration, research and support in running effective oral health program. From those humble beginnings, NNOHA's membership has grown to represent the full diversity of safety-net oral health providers and has become a leader in strengthening and supporting the oral health safety-net. NNOHA's mission is to improve the oral health of underserved populations and contribute to overall health through leadership, advocacy, and support to oral health providers in safety-net systems.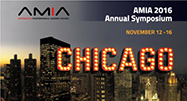 American Medical Informatics Association's (AMIA) 2016 Annual Symposium
Members of the IOSH Team presented the following posters at AMIA's Annual Symposium in Chicago, Illinois, on November 12-16, 2016.



Integrating Medical-Dental Care for Patients with Diabetes: A Pilot Implementation of Clinical Decision Support Alerts
Amit Acharya, BDS, MS, PhD1,2, Kelsey M. Schwei, PhD1,2, Dixie Schroeder, MBA1,2, Jordan Ashton, DO2, Srinivas Challa, DMD, MPH2, Cindy Sorenson, FNP2, Louay Danial, MD2, John O'Brien, DDS2, Eric Penniman, DO2;
1Institute for Oral and Systemic Health, Marshfield Clinic, Marshfield, WI; 2Marshfield Clinic Health System, WI.

Abstract: While poor oral health impacts overall health, care coordination and integration of medical-dental practices can better address this issue. This study aimed to understand the challenges of implementing clinical decision support alerts (CDS-A) to support care coordination of patients with diabetes at medical and dental centers.

Usability Evaluation of an Evidence-based Dental Patient Case Simulator
Kelsey M. Schwei, PhD1, Kate L. Thomas, MA2, Vijayakumar Thirumalai, BTech3, Chris Enstad BS3, Kim Johnson, MDH3, Andrew Schmidt, MS4 Olga Godlevsky, BA3, Neil Johnson, DDS,PhD3, Bill Rush, PhD4, Amit Acharya, BDS,MS,PhD1,2
1Institute for Oral and Systemic Health, Marshfield Clinic, Marshfield, WI; 2Biomedical Informatics Research Center, Marshfield Clinic, Marshfield, WI; 3HealthPartners Institute, Bloomington, MN; 4HealthPartners Dental Group, Bloomington, MN

Abstract: Dental Decision Simulation (DDSim) was developed by HealthPartners Institute (HPI) to aid dentists in their continued education of the latest evidence-based approaches to practice. The abstract provides a brief description of the formal usability evaluation of DDSim conducted by the study team.

AMIA is the professional home of leading informaticians: clinicians, scientists, researchers, educators, students, and other informatics professionals who rely on data to connect people, information, and technology. AMIA® (the American Medical Informatics Association®) is the center of action for more than 5,000 health care professionals, informatics researchers, and thought-leaders in biomedicine, health care and science. AMIA is an unbiased, authoritative source within the informatics community and the health care industry. AMIA and its members are transforming healthcare through trusted science, education, and practice in biomedical and health informatics.