Welcome Research Participants
We welcome your input! General questions, concerns, or complaints about research or research participation may be addressed to Marshfield Clinic Health System's Institutional Review Board office at 1-800-782-8581, ext. 93022. This same number can be called to obtain general information about research, or to offer input.
Introduction to Research
Choosing to participate or not participate in a research study is an important personal decision. Your Decision! This is a decision that millions of people make each year and before making that decision, it is important to learn about Clinical trials and what it means to be a study participant. This information is to help you with that choice and understanding.
Often it is helpful to talk to a physician, family member and/or friends about deciding to join a research study.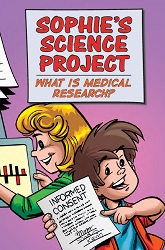 If you have a child being asked to voluntarily participate in a research study, please consider reading through this helpful children's book with them, Sophie's Science Project – What is Medical Research?, developed by Children's Hospital Boston, Cincinnati Children's Hospital Medical Center, and The Children's Hospital of Philadelphia
Synonyms Used in Research
The activity known as "research" can be referred to by many names:
Clinical Trial
Research Study
Clinical Research Study or Trial
Likewise, individuals volunteering to be in a research study are referred to by many names:
Participant
Study or Research Participant
Subject
Research or Clinical Subject
Learn more about Clinical Studies and Research Participation by selecting from the links below:
What Is a Clinical Study?
Clinical Trials
Observational Studies
Who Conducts Clinical Studies?
Where Are Clinical Studies Conducted?
How Long Do Clinical Studies Last?
Reasons for Conducting Clinical Studies
Participating in Clinical Studies
Who Can Participate in a Clinical Study?
How Are Participants Protected?
Relationship to Usual Health Care
Considerations for Participation
Questions to Ask
Common Research Terms Defined
Additional Informational Videos
The videos and resources cover a variety of topics. These topics include: general information about taking part in clinical research and the personal experiences of patients who have participated in a clinical trial. Some of the videos also mentions the types of questions to think about and ask before taking part in a clinical trial.
Participating in a Clinical trial is designed to help audiences learn more about clinical research and understand the role of a study volunteer through first person storytelling. The video introduces us to several volunteers from different backgrounds and demographics.
Several of the videos feature the Center for Information & Study On Clinical Research Participation (CISCRP) founder Ken Getz speaking to local and national audiences about CISCRP's mission and programs, as well as the changing landscape that is improving communication between research volunteers and research professionals.
https://www.ciscrp.org/education-center/informational-videos/