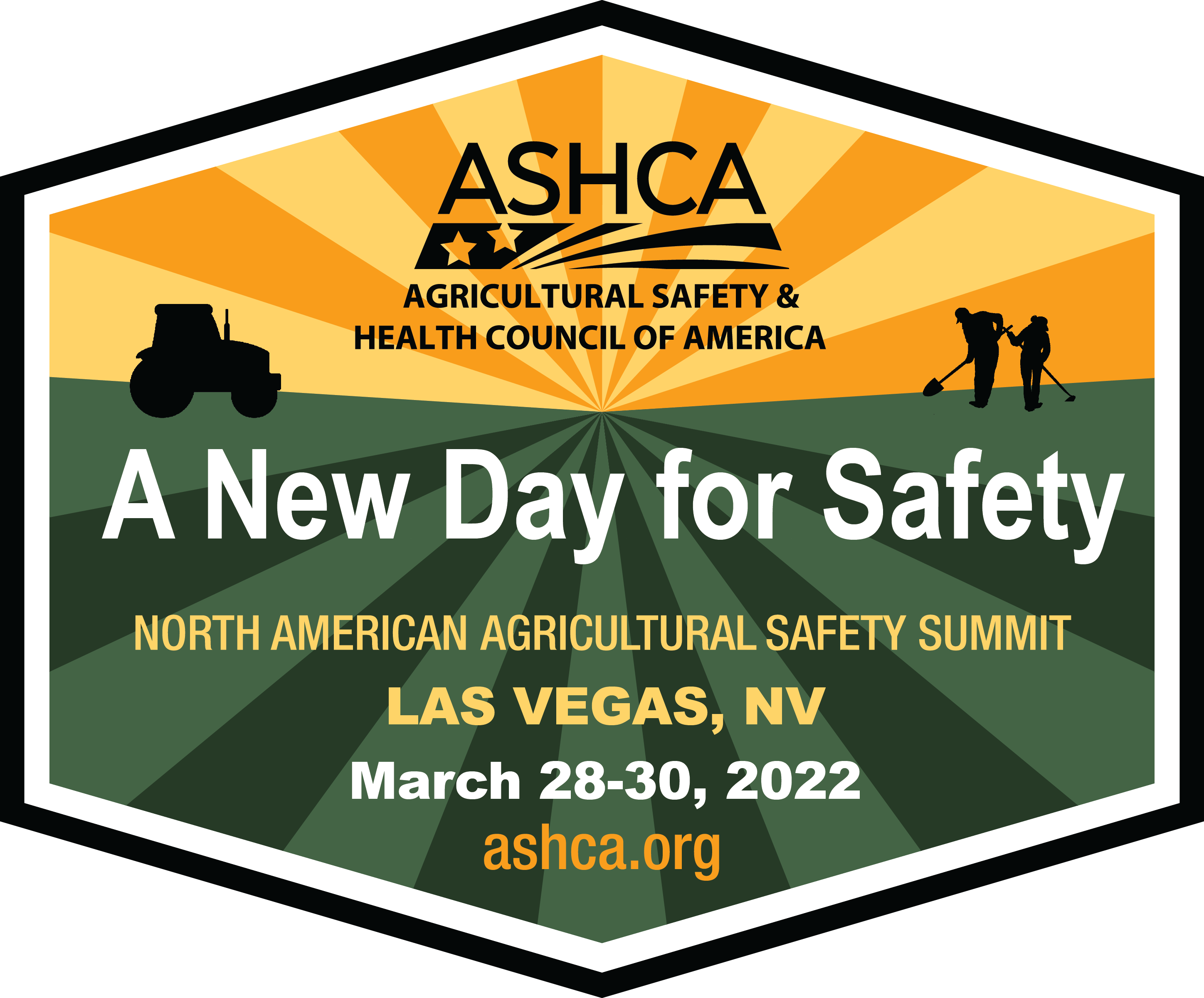 FOR IMMEDIATE RELEASE
March 3, 2022
CONTACT: Julie Koochagian
julie@ashca.org
Agriculture industry group announces safety awards
Awards to be presented at North American Agricultural Safety Summit, March 28-30
The Agricultural Safety and Health Council of America (ASHCA) will honor six individuals for their leadership in agricultural safety during the North American Agricultural Safety Summit, March 28-30, at Bally's Las Vegas Hotel & Casino.
"We established these safety awards to acknowledge leaders who have made significant contributions to the advancement of worker health and safety," said Jess McCluer, board chair of ASHCA, and vice president of safety and regulatory affairs at the National Grain and Feed Association. "These individuals and organizations have made positive impacts on the culture of safety in agriculture through safety training, collaboration, promotion, education or research."
The summit is being hosted by ASHCA with support from the National Institute for Occupational Safety and Health/Centers for Disease Control and Prevention (NIOSH/CDC).
The awardees:
Lifetime Achievement: Dan Hair, Sandy, Utah. Hair became involved in agricultural safety during his
time at the Zenith Insurance of San Diego, dealing with workers compensation issues in large agricultural operations. He became active in the International Society for Agricultural Safety and Health in the late 1980s where he befriended many full-time farm safety professionals. Later, in his senior risk manager position at WCF Insurance of Utah, he continued to focus on efforts to safeguard agricultural workers and family farmers.
Hair was instrumental in establishing ASHCA, hosting one of the business meetings that led to its formation in 2007. Hair served as ASHCA Board vice chair for many years, and has continued to chair the ASHCA Awards and Abstracts committee. Another notable leadership role was his position as co-chair of the National Institute for Occupational Safety and Health (NIOSH) National Occupational Research Agenda, Agriculture/Forestry/Fishing Sector Council. In this position, Hair was involved in updating the nation's research agenda, while merging and meeting the interests of academic researchers with the needs of agricultural producers. Hair is often consulted for his wisdom, his "big picture" approach to solving complex problems, and his strong commitment to the wellbeing of the agricultural community. Hair has transitioned into his "Ol Professor" role at the University of Utah where he worked with the university's Rocky Mountain Center for Occupational and Environmental Health's Advisory Board to create the curriculum for bachelor's and master's degrees in occupational safety and health.
Educator: Bernard Geschke, Papillion, Neb., Progressive Agriculture Foundation. Geschke has spent the majority of his career educating children and adults on farm safety. He served as Nebraska's state farm safety specialist where he established a health and safety tent at Husker Harvest Days and coordinated safety events for children, which prompted an invitation from Progressive Farmer magazine to co-develop what is now the Progressive Agriculture Safety Day program, a program for which he has served as volunteer, advocate and/or employee since its inception in 1995. In addition, Geschke shares his expertise by serving on multiple committees and organizations, including the External Advisory Board for the Central States Center for Agricultural Safety and Health and the board of the International Society for Agricultural Safety and Health (past president).
Farm/Ranch Owner: Tom Heffron, Belding, Mich., and his wife, Laura, stand out in their dedication to fair work practices and dignified treatment of their farm laborers, according to Migrant Legal Aid, which for 45 years has helped migrant and seasonal farmworkers in Michigan with their civil legal needs. The Heffrons' hands-on training includes adoption of wide-scale ag safety and health practices and advocacy for the safety and health of underserved agricultural worker populations. When COVID hit, they were among the first to step up as examples to the rest of their industry, developing a safety plan that included the unique needs of their workforce who live, work and travel in close quarters.
Collaborating leaders: Chief Jerry Minor/Pittsville (Wis.) Fire Company. Chief Minor would rather put effort into preventing a fire/EMS-related incident than responding to one. His longtime commitment to injury prevention and risk mitigation has made him a stalwart partner with the National Farm Medicine Center for four decades, and a key collaborator on numerous initiatives to improve working conditions in agriculture. His efforts exemplify the ASHCA goals to develop "effective delivery systems for safety and health information to farmers/ranchers and their workers" and disseminate "effective national strategies to reduce disease, injuries and fatalities in agriculture." Chief Minor is skilled in partnering with media to raise funds and awareness for prevention initiatives, and as an NFMC collaborator, Minor is exemplar in moving research to practice.
Policymaker/Legislature: Thom Petersen, Commissioner, Minnesota Department of Agriculture. Petersen brings a wide range of experience in state and federal farm policy, and travels to almost every county in Minnesota each year to assess how these policies affect farmers' daily lives. He is an active contributor to many agricultural boards and committees, including the Minnesota Farm Safety Working Group where he has been instrumental in advocating for grain bin safety, administering funds for safety equipment, and supporting solutions for farmer wellbeing and stress reduction via farm crisis assistance program. Petersen served as director of government relations for Minnesota Farmers Union (MFU) from 2002-2017. He is a lifelong farmer who worked on his family farm and currently operates his own horse and farm business.
Safety Manager: Julie Sorensen, New York Center for Agricultural Medicine and Health, Northeast Center for Occupational Health and Safety, Bassett Healthcare Network. Over the past two decades, Sorensen's research has focused on the application of innovative behavior change strategies to increase the use of safety technologies in worker populations. Sorensen was instrumental in the development of programs to increase the use of tractor rollover protective structures or ROPS, the most frequent cause of death on U.S. farms; led efforts to develop an online migrant farmworker clinician's resource; and has deepened her centers' involvement in safety issues affecting commercial fishermen. She successfully balances impactful research with the demands of organizational directorship, mentorship to staff and students, working with policymakers and community service.
For the full agenda, and to register as an attendee, sponsor or exhibitor, go to www.ashca.com.
ASHCA follows state, local and venue COVID-19 requirements mandated for indoor events. Should registrants find they are unable to attend the Summit, they can notify ASHCA by March 20, 2022 to receive a 100% refund of the registration fee.
For more information, contact Julie Koochagian, julie@ashca.org.
ASHCA is a not-for-profit 501(c)(3) organization established in 2007. It is a coalition of agricultural business leaders, producer associations, risk managers and others joining together with safety associations, federal and state agencies, educational institutions and safety professionals.
###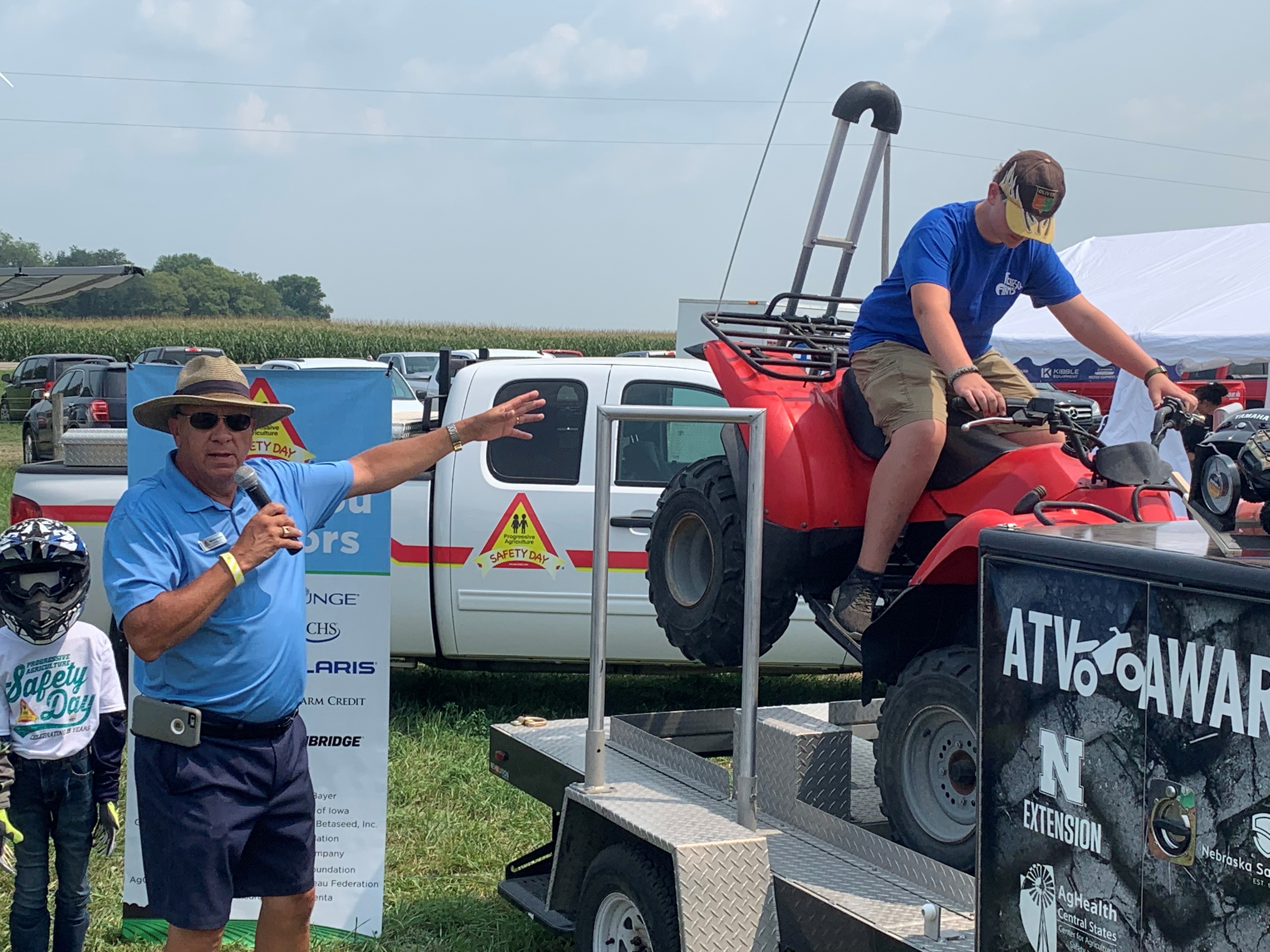 Bernard Geschke, winner of the Educator Award, showing a crowd how to safely ride an ATV during MN Farm Fest.