Program Overview
The Frank R. and Betty J. Koller Postdoctoral Fellowship is a two-year appointment designed to facilitate development of a junior scientist's independent research portfolio. In addition to salary support, the postdoctoral fellow will receive funds to pursue training and career development activities for each year of the fellowship.
Mentored professional development and other training opportunities may include:
- Access to competitive internal grant application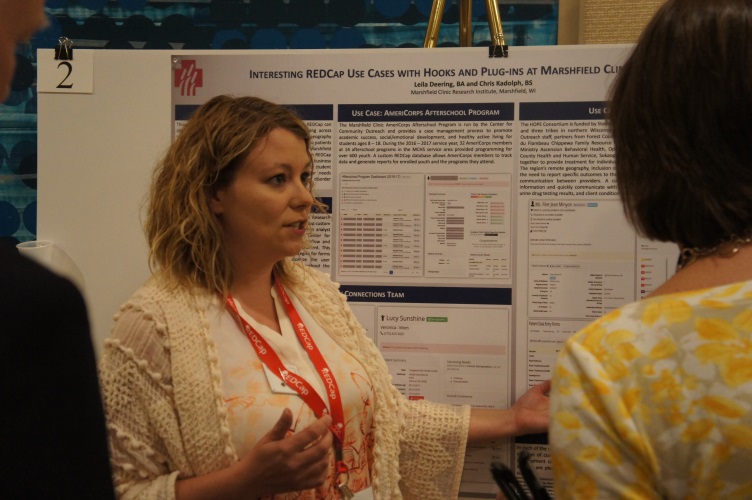 - Grant writing workshops
- Manuscript writing and scientific presentation development
- Regular on-site grand rounds presentations
- Regular on-site research seminars
- National research network webinars
- Opportunities to serve or facilitate scientific merit and peer review for internal funding applications
- Opportunities to observe or serve local/state/national scientific and professional groups
- Formal training in statistical/data management software
MCRI has formal collaborations with University of Wisconsin-Madison and is supported by National Institute of Health (NCATS and NLM) to provide additional educational and training opportunities to incoming post-doctoral fellows.
Read MCRI's Year In Review for a snapshot of the activities, people and resources at our institution that contribute to our collaborative, team science approach to research.
Eligibility
Doctoral level degree in field related to anticipated work at MCRI must

be awarded by the expected start date of the fellowship.

Applicants are required to be mentor-matched with a tenured or tenure track MCRI scientist prior to applying and must be nominated by their proposed mentor. Mentors currently seeking postdoctoral fellows are listed on our Postdoctoral Fellowship Research Areas page.

Applicants must be eligible to work in the U.S. and employment offer may be contingent upon approval of H1B visa, when applicable.
Selection
A selection committee will make final selection of the postdoctoral fellow based on the applicant's:
Proposed research area match with available mentor and MCRI scientific priorities

Statement of overall career goals, including anticipated training and career development activities while at MCRI

References

Prior education and training experiences
How To Apply
We are not currently accepting applications for this program. Please check back in May 2020 for any updates.
Application Checklist
Completed nomination form.
Three (3) Letters of recommendation are required:
- Your Ph.D. (or MD/PharmD) advisor or last postdoctoral fellowship advisor
- One other reference familiar with your research capabilities (e.g. collaborator)
- The proposed MCRI mentor
Complete Curriculum Vitae.
Graduate Transcripts (copies) and GRE scores.
If your PhD degree will be awarded after your expected start date at Marshfield Clinic, a letter from the Dean of your awarding institution will be required verifying you have completed all necessary requirements for your PhD and the date the degree will be bestowed.
Completed Marshfield Clinic application
Your MCRI mentor will submit all materials as a nomination package to the Postodctoral Fellowship Program administrator for consideration by the program director and selection committee.
Program Contact
Program Administrator
Marshfield Clinic Research Institute
Postdoctoral Fellowship Program
1000 North Oak Avenue
Marshfield, WI 54449-5777
Phone: 1-800-782-8581