Hispanic Dairy Worker Health and Safety Training
As of January 2016, we have completed our study enrollment and no longer offer free training. However, our training materials remain free and are available to download at www.migrantclinician.org/seguridad.
While we are not currently doing any trainings now, we may provide low-cost safety trainings in the near future. Please refer back to this site for updates. Or contact us if you have any interest.
From 2012 to 2015, we provided 3,453 training hours to 850 workers on 68 farms. Thank you for your participation!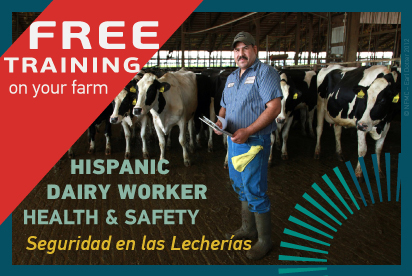 Why Train Dairy Workers?
It is FREE - With grant funding through the Upper Midwest Agriculture Safety and Health Center, NFMC offers these trainings absolutely free of charge to farmers.
On the Farm Training - We come to you and train your workers on your farm!
Time Efficient - Only 5 hours to complete. Each lesson - one hour.
Flexible Scheduling - Trainings at your convenience.
Offered in Spanish - Bilingual trainer can train workers in English or Spanish.
Training Complies with OSHA Regulations - Meets OSHA's requirements for safety and health training on the farm. OSHA approved curriculum.
Increase Your Productivity, Increase Your Profitability - Safe practices = greater productivity.
Effective - Tested with 150+ workers. Demonstrated increase in safety knowledge.
Injuries Are Expensive

Reduce your worker injuries = reduce your worker turn over
Reduce your worker injuries = decrease your worker absences
Reduce your worker injuries = lower your workers' compensation costs

Show You Care - Prevent loss, increase your worker loyalty and protect your reputation.
More safety services available for free.
Support for our Training
Our safety training is approved by OSHA and endorsed by:
The Mexican Consulate in St. Paul, MN
University of Wisconsin- River Falls, WI
Upper Midwest Agricultural Safety and Health
Here's what farmers are saying:
"Our employees are definitely utilizing the information learned in this training. This program helped our employees realize that we care about their safety and their well- being as people not just as employees." Cathy Bach, Manager, Bach Farms
"The National Farm Medicine Center's training and direction was so appreciated because of the warm, personable and cost effective service provided." Richard Wagner, President, Quantum Dairy
"Safety is the elephant in the room and it's overwhelming for someone in my position. NFMC organizes and breaks it down so you can do something about it rather than putting it under the rug." Brian Forrest, Co-owner, Maple Ridge Dairy
Trainings include:
Lesson 1: Introduction to Hazards
Why safety matters
Identifying and addressing safety issues
Workers' role in staying safe on the farm
Lesson 2: Animal Handling
Understanding animal behavior (flight zone, point of balance, blind spot)
Dangers of working with cattle
Preventing injuries when working with cattle
Good hygiene to prevent diseases
Appropriate personal protective equipment to prevent exposures and injuries
Needle stick injury prevention
Lesson 3: Machinery and Equipment
Working safely around tractors and skid steers
Roll over protection systems
Safely exiting and mounting machinery
Preventing injuries through lock out tag out procedures
Importance of machinery guarding
Electrical safety
Personal protective equipment around machinery
Importance of hearing protection
Lesson 4: Workers' Rights and Responsibilities
Worker and employer responsibilities
Worker rights
Occupational Safety and Health Administration and worker protection
Importance of reporting injuries to prevent future injuries
Workers' compensation
Lesson 5: Chemical Safety and Confined Spaces
Chemical hazards and exposure
Safety Data Sheets, labels and hazard communication (haz com)
Confined space safety
Personal protective equipment to preventing chemical exposure
Emergency procedures
Through extensive input from workers, health and safety professionals and researchers, this OSHA-approved five-module, bilingual health and safety training curriculum is available for viewing and downloads. The curriculum includes background sections on each topic and a step by step facilitators guide with visuals either in the form a power point slide presentation or a flip chart. For additional information about accessing the curriculum contact Kerry Brennan at kbrennan@migrantclinician.org.
For more information on how this project is active in the Upper Midwest visit http://umash.umn.edu/portfolio/seguridad-en-las-lecherias-immigrant-dairy-worker-health-and-safety/.
---

The National Farm Medicine Center has worked to reduce occupational health problems for farming populations since 1981. NFMC is part of Marshfield Clinic Health System.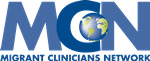 Migrant Clinicians Network has been a trusted source of health and safety information for immigrant workers and the clinicians who care for them since its inception in 1984.
---
Disclaimer: Funding for this project was made possible (in part) by the cooperative agreement award U54OH010170 for the Centers for Disease Control and Prevention. The views expressed here do not necessarily reflect the official policies of the Department of Health and Human Services, nor does mention of trade names, commercial practices, or organizations imply endorsement by the U.S. Government.