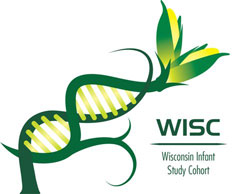 Researchers at the University of Wisconsin have teamed with the National Farm Medicine Center at Marshfield Clinic Research Institute to examine how farm environments, especially those with livestock, stimulate children's immune systems and make them less likely to develop allergic diseases, especially asthma. Asthma in children is a leading cause of emergency department visits, hospitalizations and missed school days. Asthma is a reversible obstructive lung disease, caused by increased reaction of the airways to various stimuli. It can be life-threatening if not properly managed. Asthma affects an estimated 7.1 million children under 18 years of age; of which approximately 4.1 million suffered from an asthma attack or episode in the past year. The Wisconsin Infant Study Cohort (WISC) project is being funded by the National Institutes of Health and National Institute of Allergy and Infectious Diseases through the University of Wisconsin-Madison's School of Medicine and Public Health.
The study began in 2013 comparing immune responses in cord blood from healthy babies born into farming environments and those born into non-farming environments.
WISC has now enrolled 300 babies from Wisconsin — half from farms, and the other half from rural non-farm homes. For eight years, starting in the womb, researchers will track the children's exposure to farm animals and farm-related microbes. They will measure the development of cells involved in immunity and resistance to viral respiratory illnesses and also track respiratory infections and development of allergies.
VIDEO: Dr. James Gern discusses WISC, the only rural birth cohort in the nation, in a presentation at Marshfield Clinic Research Institute. WISC recently joined efforts with the Children's Respiratory and Environmental Workgroup (CREW) and the Environmental influences on Child Health Outcomes (ECHO) consortium. These collaborations permit deeper insight into how the environment shapes children's immunological profiles and health outcomes.
Together, WISC, CREW, and ECHO seek to improve children's health. Great advancements have been made in the treatment of asthma and other allergic diseases, but there has been little progress in preventing these illnesses in the first place.
"If we can identify the key microbial exposures on farms, then we would want to offer it to non-farm kids," said Casper Bendixsen, Ph.D., NFMC principal investigator for WISC.
For more information on the project, call 1-888-512-5488.