In 2019, SRIP celebrated 45 years of providing real-world experience for undergraduate and graduate students considering a career involving research. Select the photo below to stream the 2019 Research Symposium Presentation: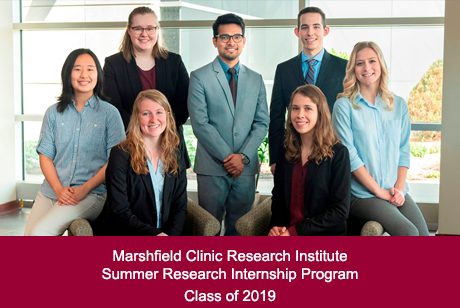 2019 Summer Research Interns:
Arun Bhatta
Project: Examining Factors Underlying Emergency Visits in a Dental Setting for Non-traumatic Dental Conditions Among Patients with Local Access to Dental Care.

Under the guidance of Ingrid Glurich, Ph.D., a scientist within the Center for Oral and Systemic Health, Arun Bhatta created a survey tool to assess variables associated with patients at high risk for non-traumatic dental condition visits to the emergency room and piloted its usage.

Arun is currently pursuing a Master of Public Health degree at the University of North Dakota.

Johanna Ellefson
Project: Robotic Assisted Cytoreductive Surgery (CRS) and Hyperthermic Intraperitoneal Chemotherapy (HIPEC) in the Treatment of Patients with Peritoneal Carcinomatosis are Safe and Feasible in a Tertiary Rural Care Center.

Under the mentorship of Rohit Sharma, M.D. in the Marshfield Clinic Department of General Surgery, Johanna Ellefson examined MCHS patient experience with the robotic assisted CRS/HIPEC procedure and assessed its safety and feasibility.

A Spencer native, Joanna is currently pursuing her Bachelor's degree in Biomedical Engineering at the University of Wisconsin-Madison.

Katie Hirabayashi
Project: Lyme Disease Incidence in Central and Northern Wisconsin, 2003-2018.

Mentored by Center for Clinical Epidemiology and Population Health clinician-researcher Scott Olson, M.D., Katie Hirabayashi examined MESA and EHR data of MCHS patients with Lyme Disease to estimate annual incidence rates and describe patient demographic characteristics.

Katie is pursuing an M.P.H. in Epidemiology at the University of Maryland's School of Public Health.

Michelle Petkovsek
Project: Assessment of 24 Hour Activity Patterns in Patients with Bardet-Biedl Syndrome.

With guidance from Clinical Research Center scientist Jeremy Pomeroy, Ph.D., Michelle Petkovsek engaged in research that analyzed activity levels and sleep quality of BBS patients compared to their BBS genotype and age.

Michelle is pursuing a degree in Dietetics from University of Wisconsin-Stevens Point. Following graduation, she plans to pursue an advanced degree in either Sports Nutrition or Sports Medicine.
Sierra Strutz
Project: Assessing Phenotypic Associations with Relative Average Telomere Length.

Also under the mentorship of Scott Hebbring, Ph.D. and Patrick Allaire, Ph.D., Sierra Strutz engaged in research that identified associations between relative average telomere length and clinical disease states.

Sierra is majoring in Biochemistry at Lake Superior State University and plans to attend medical school upon graduation.

Hannah Van Steenburgh
Project: Hospital Readmission Following Pancreaticoduodenectomy: A Single-Center, Retrospective Review, 2008-2018.

Mentored by Jessica Wernberg, M.D. and Rohit Sharma, M.D. in the Marshfield Clinic Department of General Surgery, Hannah Van Steenburgh evaluated hospital readmissions following pancreaticoduodenectomy at MCHS to determine whether readmission rates at a rural tertiary care center were comparable to nationally reported data.

Hannah is a senior at University of Wisconsin-Eau Claire pursuing a major in Biology and plans to attend medical school upon graduation.

Reynor Wilhorn
Project: Genome-wide Association Study of Telomere Length and Disease Associated Genetic Variants.

Reynor Wilhorn interned within the Center for Precision Medicine Research under the guidance of Scott Hebbring, Ph.D. and Patrick Allaire, Ph.D. His study focused on determining associations between telomere length and known genetic variants.

Reynor is a pre-medical student studying Microbiology at the University of Wisconsin-Madison.
​