---
Clinical and Genotypic Differences of Infectious vs. Colonizing Isolates of Candida albicans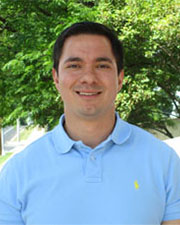 Daniel A. Ortiz1, Brooke J. Olson2, Erin K. Donnerbauer2, Thomas J. Novicki1, Mathew C. Hall3, Thomas R. Fritsche1
1Clinical Microbiology Section, Division of Laboratory Medicine, 2Integrated Research and Development Laboratory, 3Clinical Research Center
Research area: Division of Laboratory Medicine
Background: In 2014, the US released the "National Action Plan for Combating Antibiotic-Resistant Bacteria" which promotes the integration of public health, human and veterinary medicine, and environmental science to combat resistance. We examined human, food producing, and companion animal stool for potent β-lactamases responsible for therapeutic failure with cephem and carbapenem antibiotics to benchmark and track bacterial resistance in the Marshfield Clinic service area.
Methods: Residual human and animal stool specimens submitted from January 20, 2014 through May 11, 2015 for unrelated clinical testing were surveyed for enteric bacilli expressing extended spectrum β-lactamases (ESBLs), AmpC cephalosporinases, and carbapenemases. Agar plates incorporating antibiotics were used to screen for resistant organisms. All isolates recovered were 1) identified by MALDI-TOF mass spectrometry; 2) had phenotypic antibiograms generated using broth microdilution susceptibilities; and 3) tested by a commercial gene micro-array panel to characterize resistance gene families.
Results: Out of 3,280 fecal specimens, multi-drug resistant β-lactamase producing E. coli were present in 96 (4.2%), 102 (14.4%), 104 (60.5%), and 6 (4.9%) of human, canine, bovine, and feline samples, respectively. Importantly, no carbapenem resistant isolates were detected from any source. Humans and felines displayed similar percentages of ESBL and AmpC enzymes, while bovines and canines showed a higher prevalence of AmpC (64% and 70%, respectively). Among the 9 gene families detected to date, CMY II (AmpC) and CTX-M-1 (ESBL) genotypes were predominant regardless of human or animal origin.
Conclusions: The recovery of human β-lactam resistant isolates is below levels seen in other surveillance studies and, fortunately, do not include carbapenem resistant strains at this time. The high level of β-lactam genotypic similarity seen between humans and animals is, however, a cause for concern. Future studies examining bacterial clonality typing, plasmid analysis, and geographic localization will further elucidate transmissibility of these resistant traits between humans and animals.