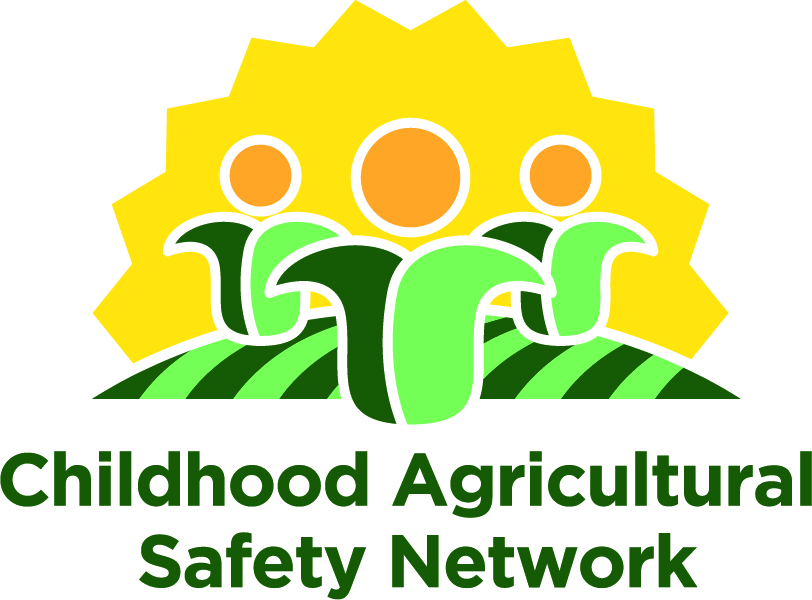 FOR IMMEDIATE RELEASE
September 23, 2021
CONTACT: Scott Heiberger
Heiberger.scott@marshfieldresearch.org
715-207-1604
New online community links child farm safety advocates
A new online community makes it easy for people interested in keeping children safe on farms to connect, collaborate, learn, share and join.
The Childhood Agricultural Safety Network, or CASN, a coalition of organizations and individuals dedicated to farm safety for children, is introducing a new place (www.childagsafety.org) for members to post and discuss child ag injury incidents, ask questions, chat, and share resources, events, news and announcements. The community offers child agriculture safety strategies, health expertise and collaboration.
CASN, founded in 2000, brings together members of the agricultural community, child injury prevention organizations, groups representing underserved populations, and agribusiness with the focus of keeping children safe on farms and ranches. The growth and diversification of its members, increased use of social media and a greater reliance on virtual methods of communication led to the creation of this online, yet-to-be-named community. A contest among members will provide a name for the community.
Connecting people to work together
"The whole idea behind the CASN group is to enhance communication between people and organizations interested in child safety and health," said Marsha Salzwedel, Ed.D., project scientist at the National Farm Medicine Center/National Children's Center for Rural & Agricultural Health & Safety, and program manager for CASN. "If we all work together, we can do more than any of us can individually."
CASN creates a "synergistic effect," she said, extending the reach of its resources. The online community is reaching new audiences, providing a forum for people to learn, discuss and brainstorm, she said. Traditionally, CASN partners received one-way mailings and correspondence through an email listserv hosted and managed by the National Children's Center. Already, active members are sharing child ag injury incidents and information, such as links to safety videos.
"The possibility for enhancing communication and collaboration that are offered with this online community are tremendous," Salzwedel said. "I'm excited about what the future will hold."
The idea for the online community grew out of two assessments conducted by the National Children's Center – the 2020 Vision project and a Needs Assessment for Enhancing Child Agricultural Injury Prevention, or CAIP. The results showed that while the National Children's Center is recognized as the national leader in child agricultural injury prevention, more networking activities were needed to strengthen partnerships, increase private sector engagement and increase the public's awareness of the importance of preventing child ag injuries and illnesses.
"One of the benefits of the online community is that we've been able to attract attention and gain some new members," Salzwedel said. "It also helps us to share things and get the word out. Instead of one-way communication, everybody can share resources and information. It also gives us the ability to host online courses and online events."
Members hope to collaborate
Jana Davidson, education content specialist with the Progressive Agriculture Foundation, is excited about the new online community and more frequent contacts among those in the network. "I think both strategies will strengthen CASN and keep everyone engaged year-round, rather than one in-person event each year," she said.
"The network of colleagues and supporters it brings together from around the world is also one of the best benefits and resources to being part of CASN. Together, we can provide solutions to problems and tackle emerging issues in farm safety and health to make our ag communities stronger," Davidson said.
"There is power in numbers. While the Progressive Agriculture Foundation is a small staff of seven, we work with more than 400 Progressive Agriculture Safety Day coordinators, and they work with nearly 20,000 additional community members throughout North America, all volunteering to reach children with age-appropriate, hands-on safety and health education," Davidson said. "The strong support of CASN helps us continue to pursue our mission to 'provide the education, training, and resources to make farm, ranch and rural life safer for all children and their communities.' CASN plays a big part in offering resources to the volunteers we serve. From ATV and tractor safety to creating safe play areas and eliminating corn boxes, to identifying appropriate, safe tasks for young farm workers, CASN's resources help educate while sharing the statistics to back up the need."
CASN member Amy Rademaker, Rural Health and Farm Safety Program coordinator at Carle Foundation Hospital in Champaign, Ill., said she uses CASN in a number of ways. "When we have our meetings, it is great to hear about what others are doing and how to become involved with others or consider how to implement some of the ideas here locally." She appreciates the National Farm Medicine Center resources and well-researched pieces. "I love having print-ready pieces … easily accessible. The annual fact sheets are wonderful, and a central location for newspaper clippings is wonderful," she said.
"The CASN brings people together that have a passion for training youth, and I can rely on anyone in this network to be helpful and collaborative when it comes to making an impact in rural youth," Rademaker said. She is hopeful the online community, "sets the stage for ongoing communication and brainstorming opportunities that we normally only have once or twice a year when we meet. Like most things, COVID has made us think about how we do things remotely and perhaps this brought to light the opportunity to keep ideas flowing all year long."
Hosting workshops and more
The online community is the host site for the three-part "Child Agricultural Safety and Health Workshop 2021: Protecting the Future of Agriculture" held virtually Sept. 14, 21 and 28. Access to the conference and all workshop materials, PowerPoints and resources are available through the online community. Conference registrants unable to attend the live sessions can view session recordings.
"The online community platform really opens up possibilities for us," Salzwedel said. "With COVID and everything else going on, it's another tool for us." Normally, CASN members would meet once or twice a year. In the past year, CASN was limited to Zoom meetings, sending emails and referring people to websites. The online community offers a place for network members to chat, discuss topics, find collaborators and access resources in a "one-stop shop," she said.
Salzwedel hopes the workshop, co-hosted with all 10 regional National Institute for Occupational Safety and Health, or NIOSH, ag centers, helps participants become more comfortable with the online community. The agriculture centers can reach participants in their regions and continue to grow the international coalition.
"All research workshop participants can reach out to clients in their networks and share this community with them and expand things even further," Salzwedel said. "It's just going to take a little while for people to not only remember that it's there, but also to become comfortable using it. Hopefully it becomes a habit." She noted it's meant to be used frequently -- on a daily basis or even multiple times a day – like other social media platforms.
Some of the online community's features are customizable, and everything is user-friendly. Salzwedel said she welcomes feedback, proposals for topic areas and suggestions for group discussions. "It really does belong to the CASN members. It's built to serve them," she said.
Salzwedel said membership is increasing as people learn about it and some find it by online searches. To request an invitation to the online community, go to https://www.childagsafety.org/ or to learn more about CASN, visit https://cultivatesafety.org/casn/.
###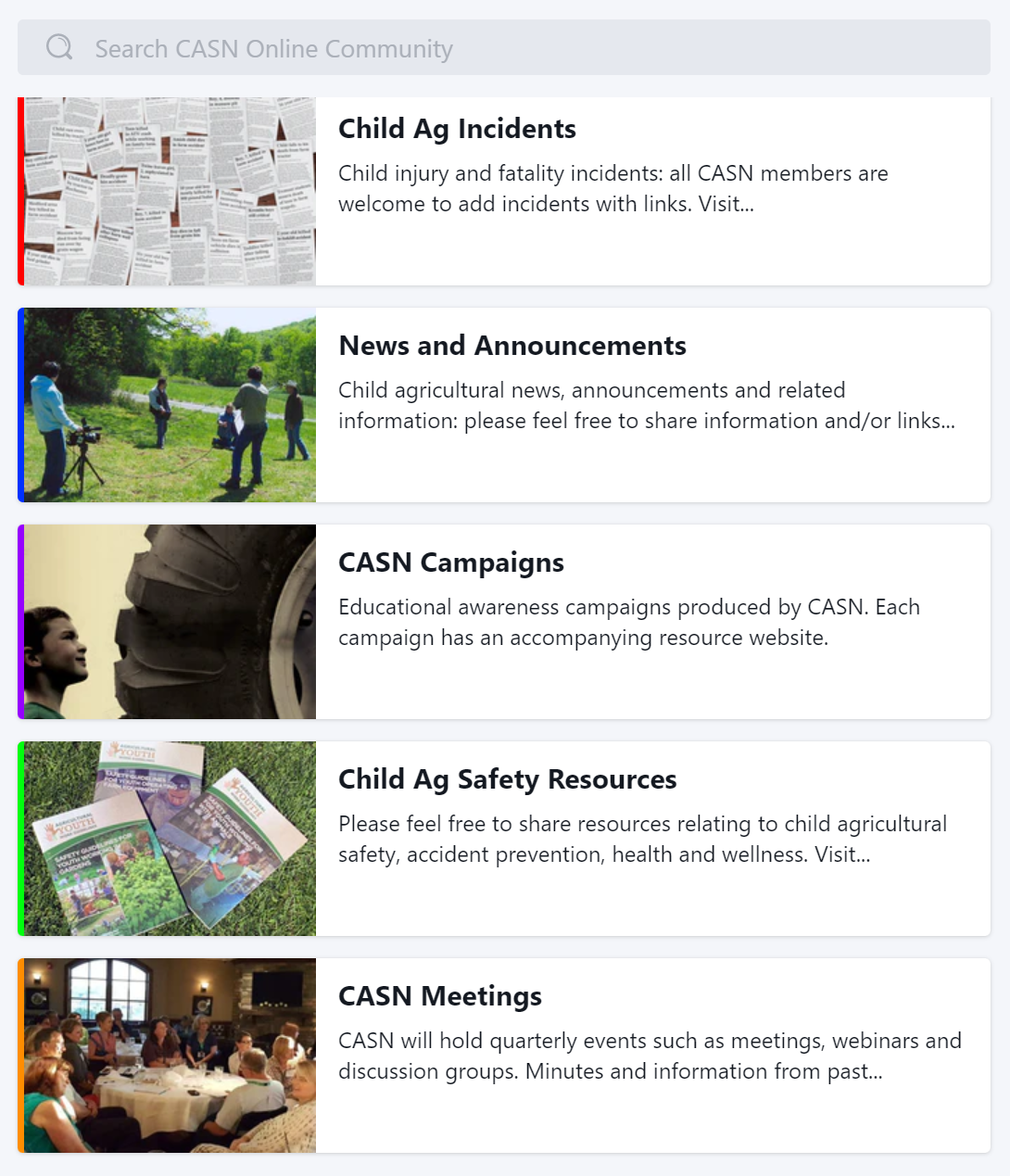 Caption: The new Childhood Agricultural Safety Network online community makes it easy for people interested in keeping children safe on farms to connect, collaborate, learn and share.
Display in Latest News: No