With funding by the National Institute for Occupational Safety and Health (NIOSH), a project to reduce the incidence of workplace injury and fatality to hired adolescent farm workers, through the development and distribution of user-friendly safety resources. A new intervention project, Integrating Safety Guidelines for Hired Adolescent Farm Workers into Field Supervisors' Practices, is being lead by Children's Center director Barbara Lee. This project will test a new method for conducting training among field supervisors in production agriculture.
Seven guidelines have been developed in English and Spanish. Each colorful, illustrated poster addresses supervisor responsibilities for ensuring work conditions are appropriate and adequate (e.g. safety devices are in place, safe transportation to fields) and for assessing their teen workers (e.g. worker can operate vehicle controls, can lift and carry 15% of body weight). Training and supervision tips, specific to teens and to each job, are provided.
Finally, each poster includes pertinent federal regulations and referrals to obtain state-specific child labor regulations. Depending on the agricultural operation, an employer would likely select a variety of guideline topics for use.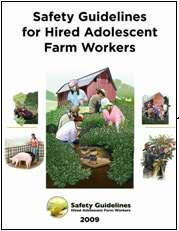 SaGHAF Guidelines Table of Contents
Purpose and Background
(English)
Training Tip Sheets
Basic Principles for Training Teens (English)
Principios Básicos Para La Capacitación de Adolescentes (Spanish)
Employer/Supervisor Responsibilities (English)
Responsabilidades Del Empleador/Supervisor (Spanish) (122 KB PDF)
Safety Posters
Adolescents at Work (English)
Adolescentes en el trabajo (Spanish)
Working Outdoors (English)
Trabajando al aire libre (Spanish)
Basic Tractor Operations (English)
Operaciones básicas del tractor (Spanish)
Hand Harvesting Fruit and Vegetables (English)
Cosecha manual de frutas y vegetales (Spanish)
Harvesting Tree Fruit and Climbing a Ladder (English)
Cosecah de fruta frutales y como subir una escalera (Spanish)
Working with Large Animals (English)
Trabajando con animales grandes (Spanish)
Working with Utility Vehicles (English)
Trabajando con vehículos utilitarios (Spanish)
Entire Guidelines